I then felt that Rs.380 was hardly anything for what I received at the restaurant. I started feeling a sort of addiction for prasadam at that place. I had already made up my mind for the next time at Govinda's, the Laksmi we give is used by the temple as a donation.
BY: PREMANJANA DAS
I always had the desire of visiting all the 4 ISKCON temples in Mumbai, as I had heard so much about them and the preaching activities in Mumbai. Sri Sri Radha Rasa Bihari in particular always captivated me, for some unknown reasons. When I saw Govinda's restaurant at Juhu from outside, I thought that this place is only for the 'rich men', so I stopped visiting that area in the temple where the Govinda's restaurant is located; but once on Sunday afternoon, I just bought the coupon that cost me Rs.380 per plate, and went to stand in a queue. A waiter took that coupon and gave me a thali with two bowls in it. I then started picking up the dishes I liked; for there was a very large variety of dishes which were Punjabi, intercontinental and Chinese. I was also impressed by the way the dishes were 'put up' in front of the customers.
I was well-clad in my white dhoti-kurta and tilak and everybody greeted me as a 'Prabhu'. While I was honouring prasadam in that restaurant, a lady sought my permission to sit with me, she was with her husband and I was surprised to know that they wanted my association. Her husband told me that he took ISKCON Life Membership in the 1970s and he was one of the initial people who supported ISKCON in Mumbai. He was visiting the Govinda's restaurant for more than three decades now. He told me that they were married for 30 years now and that he never had a fight with his wife in all these years, just by the grace of Lord Krishna. Furthermore he said that they would always meet someone like me (a devotee) whenever they would visit Govinda's.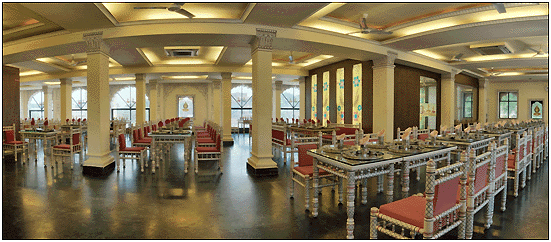 His wife asked me about my whereabouts and activities. The gentleman told me that he did not like if anyone would leave Krishna prasad on his plate, he told me that one should honour the prasadam completely. He then hugged me before leaving and complimented, "You made my day". His wife told me that her perspective would be different if somebody like me would be working in her office. I ate a lot and I swear that I had the best food I have ever had in my life that day, which was supplemented by ice-creams and desserts. I slept soon after I had that great feast.
I then felt that Rs.380 was hardly anything for what I received at the restaurant. I started feeling a sort of addiction for prasadam at that place. I had already made up my mind for the next time at Govinda's, the Laksmi we give is used by the temple as a donation. Another time at Govinda's, I met one aged gentleman from Surat who was in Mumbai just for Govinda's and was staying at the temple guesthouse. He also felt addicted to the prasadam at Govinda's, and that effect was heartfelt by the way he spoke.
'Now, it has been around 5 times that I have been to Govinda's at Mumbai and every time my love and appreciation for Krishna and prasadam became more and more and I also feel much more captivated by Shri Shri Radha Rasa Bihari now. Then once it was in the evening that I was facilitated prasadam by His Grace Sulochan Prabhu, when I was interviewing Shri Rajeev Nayar, Assistant Manager, Govinda's ISKCON Juhu. The main factor which made me write about the Govinda's was its uniqueness and the concept with which this restaurant operates.
Govinda's gives food for the soul. The entire family can be taken to this restaurant for a program, birthday or any celebration. Govinda is a name of Lord Krishna which means that He is the one who gives pleasure to the cows as well as the one who gives pleasure to the senses.
Govinda's —the restaurant is located at the 'Heaven on earth complex' in the Juhu temple. A large glass wall shows the temple in the background. The restaurant is off the foyer, a large air-conditioned room with wooden paneling and Gujarati lacquered chairs and tables. The maitre d' takes you to a vacant table. The extensive buffet is spread out at one end and the dishes are neatly labeled. There is a very fine music, the Hare Krishna mahamantra which is played in the background mostly in the transcendental voice of His Divine Grace A.C. Bhaktivedanta Swami Prabhupada (ISKCON Founder-Acharya). A notice on the wall states, "Krishna Prasad is non-different from Krishna. Please do not waste the food."
The staffs (cooks and waiters) are inculcated to become devotees of Lord Krishna. There are some rules applicable to everyone who visits the restaurant—no intoxication, purely vegetarian, no tobacco etc. Anybody can visit the restaurant; you don't have to be a devotee of Krishna.
On Sundays, with everybody crowding in, you have to wait for a table. On other days it is easier. Bisleri water is served free. Juices, butter-milk, and jal-jeera are given as welcome drinks (but cola drinks as well as coffee are not served here).Tea is served too, but only herbal tea. You would know the difference. The food is tasty, better than any other 'vegetarian food' I have eaten. The variety is amazing and the cuisines are Indian, Chinese, Thai, Italian and Mexican. Naturally, all the cuisines are available at the same meal. You then help yourself to a little of this and a little of that, and the menu changes every day. But first, there was a welcome drink. A waiter came with a tray with glasses of butter milk, litchi, pineapple and watermelon.
I had juice and then moved on towards the buffet area. There were large porcelain plates, and the waiter placed two porcelain bowls in each plate and gave it to me after taking the 'cash-slip'. Everyday there are three varieties of rice available like pulaos, biryanis, Chinese fried rice, Thai pineapple rice, Spinach Biryani, Mexican pepper rice, Italian capsicum rice, risotto, rice with cheese balls, plain steamed rice, chutneys etc. On Sundays, there are about eight to ten rice dishes, and also pasta. Everyday there are three dals, which range from tur and moong to dahi kadi, dal makhani along with vegetables. There are rotis, paranthas, bhakri, cheese naan and of course, 'each and everything' here is cooked in 'pure desi ghee'.
I had Thai salad (cabbage, capsicum, baby corn, dry whole chillies, vinegar, salt and sugar) and a little bit of Chinese spicy vegetables and fruit salad. There were several other salads (but I had 'do not waste anything in my mind') so I just limited myself to selective items. I had basket chaat, which was canapés shaped like baskets and filled with potatoes, paneer, peas etc. They were small, each one a mouthful, and disappeared fast. There were starters, along with Gujarati dhokalas, made with besan and black rye, my favourites, soft and yielding, and matka samosas, plus spring rolls, crispy, and thankfully without onion, and cream corn. Then there was a table filled with chaats, dahi-wada, an aromatic pudina raita, leaving an after taste of pudina. Desserts include caramel custard and Thai jelly, plus ice-creams and kulfi.
ISKCON has more than 10 such restaurants all over the world. The cooks have a great deal of love and devotion. The most important aspect, however, is that each dish is cooked and a portion of it is placed in separate dishes, then taken into a room where there is an altar of Lord Krishna. It is offered to the Deities of Lord Jagannatha, Baldev and Subhadra and Shri Gaura-Nitai, then put back into vessels and mixed with the major portion.
As a writer I would like to share something more, the very special thing I noticed about Govinda's is that the staff is very pleased to work here; they get a place to stay arranged by the management and Govinda's prasadam as well, but in most of the material organizations like banks, software firms, etc. employees have a terrible time and always feel disgusted. Govinda's is a new and great career option for young boys looking out for a job.
• "It is a very good idea for people to come to our vegetarian restaurant and take so many nice things, especially the panir, fried cheese, and sandesh, kachori, rasagulla, samosa and in this way they will forget their meat-eating. If you make a soup of fried panir with asafoetida and ginger, this will replace lobster soup nonsense. Of course we are not interested in giving them vegetarian food; we are wanting to give them prasadam. Then gradually they will become devotees" 
(Srila Prabhupada Letter to Tusta Krsna – Bombay, November 9, 1975) 

"Regarding the restaurant, you should not name it as you have suggested, but "Hare Krishna Restaurant." That should be the name. In each restaurant there should be the picture of Lord Caitanya, and the foods should be offered and distributed to the respected customers. There should also be a tape recorder playing the Sankirtana in mild voice." 
(Srila Prabhupada Letter to Batu Gopala — Vrindaban, 16 August, 1974) 

"So far foodstuffs offered do the needful. Whatever is available and also very nice, that is offerable, as long as no meat, fish, eggs, garlic, onions, or other very objectionable foodstuffs are there. Salads are all right, and there is no condition on which type of rice, the best available under the circumstances, that's all. What matters is that everything is very nicely prepared and offered with great loving devotion, that is wanted." 
(Srila Prabhupada Letter to Upendra — Calcutta, 19 February, 1972) 

"This program of offering grand scale quantities of prasadam amongst the general people was encouraged by Lord Caitanya, because if someone partakes of the remnants of offerings to Lord Krishna, then he is sure to come back to Krishna Consciousness again at one time or another. So propagate our processes of Sankirtana, sumptuous Love feasts, and reading literatures of Krishna Consciousness, and surely many persons will be attracted to join this sublime movement." 
( Srila Prabhupada Letter to Pradyumna — Los Angeles, 15 July, 1969) 

"Krishna is offered foodstuff in goodness. The foodstuffs in the modes of goodness are wheat, rice, pulse (beans, peas), sugar, honey, butter and all milk preparations, vegetables, flowers, fruits, grains. So these foods can be offered in any shape, but prepared in various ways by the intelligence of the devotees. The ingredients are always the same as above, whether you fry them, boil them, bake them, powder them, or whatever way they are combined or cooked, the idea is that they must come from this group of foodstuffs. So you can make your own recipe if you like, so long as the ingredients are within this group. This foods group is stated by Krishna in the Bhagavad-gita, and we follow accordingly. Now the thing is that you must consider by whom you are being taught what is healthy and what is not healthy. What is their authority? Actually, this healthy and non-healthy is a material consideration, and we are simply interested in what Krishna wants, so we offer to Him to eat whatever He wants. And He asks for food preparations from within this group. I hope this will clarify the questions about Prasadam preparations for you to understand." 
( Srila Prabhupada Letter to Kris — Los Angeles, 13 November, 1968)
A staff member here told me—"Once Srila Prabhupada said that wherever there is an ISKCON temple, Govinda's should be there, where Govinda's is, people will have prasadam and get purified and come to temple also. There are '56 bhogas' prepared in Juhu on Sundays. Guests honor the prasadam with words of appreciation too, and say that they would like to come back to this place, and do not feel like going anywhere else, they would also want to have their daughter's wedding at Govinda's. Rahul Bhatt (actor and son of famous director Mahesh Bhatt) also loves coming to Govinda's. The total number of seats here is 280, but we somehow accommodate 300 people. Many times guests have to wait as it is too crowded. Mostly families and groups visit the restaurant. Prasadam in Govinda's is 'unlimited'! Morning breakfast is from 7:30 AM to 11 AM. Evening snacks are 'menu wise' from 4 PM to 6 PM. On Sunday and other public holidays charges are Rs.380 per plate and '56 bhogas' are offered to Lord Jagannath and served to people. On other working days there are about 36 dishes and charges are Rs.330 per plate. Upon visiting Govinda's people also enquire about the 'temple timings' as they would also like to visit the temple.
Many foreigners also come and they visit the temple first and then the Govinda's. They look at the pictures in Govinda's and ask us, 'Who this man is? How is He so beautiful?' Then we tell them that He is Krishna — the Supreme Personality of Godhead.
There is a story about a Jain family who used to visit Govinda's once or twice a week for a year and they used to live near the house of an ISKCON devotee who used to have a 'congregation program' at his house. This program attracted that family, they started visiting this program and the temple and thereafter, gradually the whole family was transformed into devotees. (Formerly, they would just visit Govinda's and never the temple). Now, this whole family comes to temple every Sunday and brings people along with them. Now they give the whole credit to Govinda's and tell us that they got Krishna in the form of prasadam first. Many people come to Govinda's and thereafter, they start chanting the Hare Krishna mahamantra."
Shree Rajeev Nayar said: "Basic philosophy is that 'satvik' food is prepared here (without onion and garlic) and offered to the Lord. Since food is satvik and is without many masalas, etc., it attracts everyone's attention, whether it is a child or a senior citizen. This restaurant was started more than 35 years back (Even I do not know exactly when) but I have been here since 1997 (for about 15 years now). The basic idea was to promote vegetarian food, vegetarian food is available outside also, even without onion and garlic, but specialty here is that the food is first offered to the Lord. We always maintain hygiene and purity of food; food is prepared in clean kitchen. We never use 'left over' food, the way it is done in other hotels. The left-over food is served to the staff of the restaurant first and then it is distributed to poor people in the nearby area like the Juhu circle. Although we cannot imagine Chinese food without onion and garlic, here that is also cooked without the use of onion and garlic; and this surprises the people in general.
This Govinda's and the Juhu ISKCON temple hosted the famous wedding of film actress Esha deol, daughter of an actress who is also a devotee – Hema Malini and actor Dharmendra on June 29, 2012. The coverage for this wedding was given on the front page of all leading tabloids and newspapers in India. Pictures from the Juhu temple were seen by people all over the world on the Internet as many celebrities and influential people attended the wedding ceremony.
Late Shree Jagjit Singh (veteran ghazal singer) used to come here to honour prasadam whenever he performed at the Bhakti Kala Kshetra.
John Ibrahim and Bipasha Basu also visited to attend a friend's function. Kabeer Bedi has been here many times and he personally told Premanjana Das that he loves the food here. Madhuri Dixit also came here once. Manoj Bajpai keeps coming to this Govindas, so do Hema Malini ji. I was not in the restaurant when Shreya Ghoshal visited. Veteran bhajan singer Shree Anoop Jalota keeps coming here occasionally. After the death of some famous personalities like Anil Kapoor, 'prayer meetings' are held in the temple. These celebrities visit the temple after they visit the Govindas.
33 items are served from Monday to Saturday while we serve more than 56 items on Sundays. When I joined in 1997, there was a menu of 15 items but even at that time prasadam was loved by people. At that time, it was 'sit down service', we used to give thali to the customers on their table. In 1997 too, people used to love food but there was a lack of variety; suppose three varieties of sabjis are to people and if they disliked any of them, then they do not get any variety at all. In those days one thali used to cost Rs. 125.
We then changed the system after getting feedback from people — lack of variety, only Indian food, no Chinese etc. We did research, went to other hotels, tasted their food; we tasted their food even with onion and garlic (of course, only the cooks and employees went there and not the devotees) and cooked the same items here without the use of onion and garlic and management always encouraged us in implementing our ideas. A feedback form is available here so that we can always keep improving ourselves. It was after this that we started giving buffet to give more variety to people like Mexican, Chinese and Punjabi etc. We introduced these as food habits of Indians are changing and also to provide food to the foreigners who would come here.
We have three sweets today—gulab-jamun (the famous ISKCON bullet); kesar cham-cham (a fancy sweet, prepared on a rich creamy base) and caramel pudding (continental food).
In salads also there is a variety, i.e. green salad (common salad) and also one Thai preparation. Variety of cuisines are fit into each category like salads, sweets etc. There is a mixture of Thai, Mexican, Chinese, Indian, Punjabi and Italian in every menu. We also innovate a lot of items and always try to improve ourselves.
Working here is a kind of seva where we try to give our best service to devotees who come here to visit the temple and also to the general public. We give food at a very competitive price then it is available anywhere else.
When we work here we get a 'temple environment' and a feeling of attachment to God. You can get to work anywhere in a hotel but here you get a feeling that you are working for a noble cause, for God.
Now, there are plans for organizing 'food festivals' like 'Gujarati food festival' and 'Rajasthani food festival' We are also planning to start 'home delivery' facility.
Over-crowding, especially on Sundays and weekends sometimes is a problem for us. There is a 'waiting queue' on Sundays. Even today this restaurant will be fully occupied in some time."
(The above conversation took place between Premanjana das and Shree Rajeev Nayar at Govindas, ISKCON Juhu Mumbai).
Many people who worked here in Govinda's have now left this work but are still in contact; they still come here twice or thrice a year and also have darshan of Shri Shri Radha Rasa Bihari.
Tapan das (Captain at Govinda's in ISKCON Juhu) said: "We love to work here; we get delicious food and the staff works like a family, everyone gets together to solve each other's problem."
My intention in writing this article was to glorify Srila Prabhupada, Krishna prasadam, Govinda's — the great spiritual restaurants and also the great Vaishnavas serving in these restaurants. I personally pray to Their Lordships that after reading this article, many people would be drawn towards Govinda's—some would like to join Govinda's as employees, some will go there to honour Krishna prasadam and would someday be transformed into devotees. Some devotees may also think of having their own 'spiritual restaurants'.
I have written this article as a salute to those who have dedicated themselves to making bhoga for the Lord and distributing prasadam. I dedicate this article to the staff at Govinda's who work to serve the guests who come here and give them "Food for the soul". I also offer my gratitude to Srila Prabhupada, who gave this revolutionary concept of a 'karma-free diet' and also to those who are serving Srila Prabhupada to spread this holy mission everywhere. I pay my regards to His Grace Veda Guyha Prabhu (ACBSP) who motivated me to write this article, Shree Anantha Prabhu who helped me in writing this article, and Shree Sulochan Prabhu who sponsored one feast for me at Govinda's and helped me in taking feedback from staff.
Hari Bol!!!