BY: BASU GHOSH DAS
Feb 03, BARODA, INDIA (WVPB) — On Friday, January 29, 2010, ISKCON Juhu, Bombay celebrated its 30th annual Jagannath Rathayatra festival. The Rathayatra festival was inaugurated by local MLA ("Member of the Maharashtra Assembly", the legislative branch of the Government of Maharashtra) Ashokbhau Jadhav, and Sri Dilip Patel, the Chairman of "Best" (the Bombay Municipal bus service authority), in a pandal (tent) erected in front of the Juhu temple guest house entrance.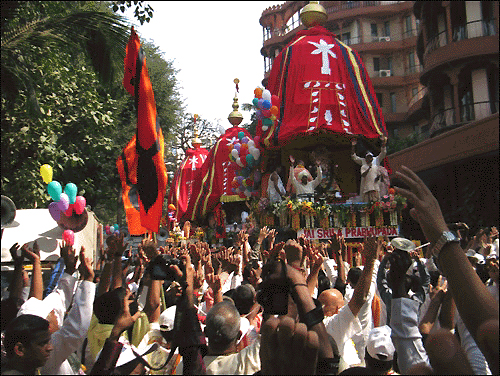 Three grand rathas, fabulously decorated with arranged flowers, flower garlands, balloons and banners left the drive-in entrance to the Juhu temple in a procession at around 2:00 PM, along with thousands of devotees and congregational devotees from Bombay's four ISKCON temples (Juhu, Chowpatty, Mira Road and Khargar), as well as visiting devotees from around the world, local congregational devotees and several ISKCON sannyasi guests.
Senior ISKCON sannyasis and leaders H.H. Gopal Krishna Goswami, ISKCON Juhu GBC, and H.H. Navayogendra Swami performed arati to Their Lordships just before the three rathas departed the Juhu temple.
From the temple, the Rathas then moved past the historical Chandan cinema, and over to the main Juhu-Lokhandwala Road. The route was then almost a straight path to the Lokhandwala garden stretching approximately seven kilometers, where a three-day pandal program was organized by ISKCON Juhu.
Senior ISKCON sannyasis and GBCs, H.H. Kavichandra Swami and H.H. Radhanath Swami joined the procession after it was underway. Both of them led ecstatic kirtans during the procession, which reached the Lokhandwala garden at around 7:00 PM.
Several senior disciples of Srila Prabhupada also joined the Rathayatra. Jasomatinandan das, ISKCON Gujarat Zonal Secretary, Narottamananda das, Basu Ghosh das, Dadhibaksha das, and Jagannath Charan das also participated. Well known and loved "kirtaneer", Vaiyasaki das led kirtan for sometime during the procession.
Senior ISKCON India devotees Devakinandan das, Zonal Secretary for Juhu temple, Rajasthan and U.P., Bhaktivinode das, co-President of ISKCON Chandigarh, Braja Hari das ISKCON Juhu Temple President, Surdas, Temple President of ISKCON Khargar (New Bombay), Sanat Kumar das, Temple President of ISKCON Chowpatty, Janardan Das, Sri L. Khurana, Chairman of the Rathayatra festival committee, Brij Mohan Sethiji, long time ISKCON Juhu supporter, Dr. Mukunda Madhava das, ISKCON Juhu Vice President, Mahaprabhu das, Arjun Hari das from New Delhi, and Vanamali das from Bhubaneshwar, were amongst the thousands of devotees who attended the festival procession.
Jagat Guru das from Detroit, USA, Jagjivan das from New Zealand and Radhacharan das, from Melbourne, Australia, was also present, despite having just arrived from abroad. Krishna Premi devi dasi from Beijing, China, also joined the assembled devotees. There was also a large contingent of devotees from the Ukraine, at the Rathayatra.
Their Lordships were offered fruits, sweets and arati by local residents at various places through out the procession.
After the completion of the Rathayatra procession, there was a grand program arranged at the pandal at Lokhandwala Garden. There was a grand altar constructed for continuous darshan of Their Lordships. "Chappan Bhog" (56 items, mostly sweets) prasad was offered to Their Lordships on Sunday, January 31.
The special features of the pandal program were daily lectures in the mornings and evenings by senior ISKCON sannyasis and devotees, H.H. Gopal Krishna Goswami, H.H. Navayogendra Swami, H.H. Radhanath Swami and H.H. Kavichandra Swami, Jasomatinandan das, Basu Ghosh das, Dadhibaksha das, Devakinandan das and others.
Thousands of pious members of the public crowded the pandal program in the evenings!
There were a number of booths erected around the periphery of the pandal that attracted the visitors, including congregational preaching booth, Bhakti Kalakshetra (ISKCON Juhu's auditorium organizing unit), BBT book stall, BI booths, IYF booth, as well as sweets, snacks and gift stalls.
Also, there was a special "Srila Prabhupada pastimes" exhibition.
Free prasad was distributed on a grand scale: daily some 15,000 full meals were served by ISKCON devotees to one and all, in a separate arrangement opposite the program pandal. This area experienced heavy crowds and long queues (lines) of persons eager to partake of the prasad!
For more pictures, please visit our website.