Born to English-speaking parents, this American took to Sanskrit when he was still in his teens; Indian culture and language is what attracted him to India.
Dhwani Pathak Dave
Allahabad Mirror
Posted On Sunday, November 27, 2011 at 02:37:35 AM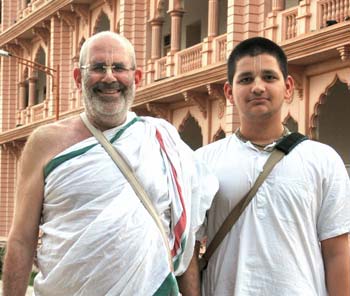 Basu Ghosh Das smiles for the camera along with son Vaman Avatar
He is an American who has spent 38 of his 54 years of life in Gujarat. Basu Ghosh Das, president of the ISKCON temple in Vadodara, is currently in Ahmedabad to participate in the All India Sanskrit Elocution Competition. Dressed in a white dhoti and upavastra, he speaks chaste Sanskrit as he walks on the SGVP International School campus, taking a break to communicate in Hindi and Gujarati with those who perhaps don't follow Sanskrit entirely.

Born as Bryan Davies in Chicago, it was Indian culture and language that drew him to India when he was 16. "I have been in India for so long now. This is the land I belong to since back then. I have been living in Vadodara and a few years into staying there, I learnt Sanskrit, Hindi and Gujarati," he says.

At the Sanskrit Elocution competition, Ghosh is present to talk on Indian culture. Expressing anguish at the Indian community that perhaps does not value Sanskrit, Ghosh says, "The youngsters here do not know the rich value Sanskrit can inculcate. It is indeed sad that despite such a rich Indian spiritual culture, people here are yet to understand and get to the depth of it." 

Ironically however, his son Vaman Avatar too goes to a 'western' school, not a gurukul. "He prefers wearing jeans compared to a dhoti. It is only today that he has worn this," laughs Ghosh, as he turns towards speaking Sanskrit with other lovers of the language.